Did you know you have a superpower that can help you work through a debt resolution plan, deal with bad debt, and face financial trouble?
If you tap into it, you will not only help you deal with debt but also improve other areas of your life, too.
The superpower?
Gratitude.
Gratitude may seem like it is miles away when you are dealing with financial trouble. But, finding gratitude in the midst of debt may be exactly what you need to overcome the debt!
Gratitude Defeats Debt
The idea of gratitude as a financial tool may feel obscure, but it is anything but. Scientists have long been studying gratitude, its causes, and its effects. There is a long list of benefits shown to come from gratitude.
Make a bulleted list of benefits of gratitude.
Gratitude is a sentiment of thankfulness and appreciation for something.
Gratitude causes the release of oxytocin, which produces feelings of calmness and happiness.
People who are grateful show higher levels of positive emotions than those less so. They also have lower incidence rates for depression and stress-related disorders that can often have financial consequences.
Gratitude shifts your focus on the positive aspects of your life, even when things are tough. This can help you break the negative spiral that often comes with debt.
Gratitude helps break the cycle of rumination or dwelling on negative thoughts. This can lead to depression, anxiety, and chronic stress.
Gratitude can increase feelings of self-worth, which can lead to increased productivity and goal achievement.
Gratitude can improve physical health. Studies have shown that grateful people experience better sleep, fewer aches and pains, and less stress.
While these may not all directly help you overcome debt with gratitude, they can lead to improvement in many areas of life, including finances.
Unlike a feeling like happiness or anger, people can actually choose gratitude. It is more of a mindset than a mood. We can decide—and take actions— to become grateful, even if it does require we 'fake it till we make it" from time to time.
Grateful To Those In The Know On Gratitude
While we can share a slew of information on the science behind gratitude and the many ways gratitude can help you deal with debt, there is a ton of content out there that will speak better to this than we can.
Today, we will stay in our lane and do what we do best- help people resolve their debt and credit difficulties. We'll let those individuals who are more in the know than us speak to the specifics.
Watch this excellent Ted Talk delivered by Brother David Steindl-Rast, founder of gratefullness.org, then follow the links below to dive deeper into the experiences and science behind these suggestions. You'll find that embracing gratitude will not only be your superpower to help you get out of debt but help in ways far beyond financial troubles.
Get Up and Help Someone Else
According to Polly Campbell of Psychology Today, "We've all got stress and troubles. When we reach out to one another not only do you help them survive, but the generous act will give you a boost too."
Put Your Gratitude on Paper
Ed Kromer, via the University of Washington Foster Blog, suggests you "Write down the names of three people or things in your life you are grateful for, and why."
Benefits of gratitude
Colette Edwards, MD, MBA o fPeopleTweaker writes that Robert A. Emmons is a leading expert on the science of gratitude and a UC Davis professor of psychology. He believes gratitude forces you to focus and celebrate the present and be active in your own life. He suggests that gratitude results in the following amazing benefits:
1) It makes you happier
2) Improves your health and well-being
3) Lowers stress
4) Improves sleep
5) Strengthens relationships
Gratitude is good medicine.
Again we find more valuable and specific health benefits from Robert A. Emmons of UC Davis Health Medical Center.
1) Gratitude is related to 23 percent lower levels of stress hormones (cortisol);
2) Two gratitude activities (counting blessings and gratitude letter writing) reduced the risk of depression in at-risk patients by 41 percent over a six month period;
3) Grateful people (including people grateful to God) have between 9-13 percent lower levels of Hemoglobin A1c, a key marker of glucose control that plays a significant role in the diagnosis of diabetes.
Quotable Quotes
"I don't have to chase extraordinary moments to find happiness – it's right in front of me if I'm paying attention and practicing gratitude." – Brene Brown.
"Gratitude is the healthiest of all human emotions. The more you express gratitude for what you have, the more likely you will have even more to express gratitude for." – Zig Ziglar.
"Learn to be thankful for what you already have, while you pursue all that you want." –Jim Rohn.
To the authors, scientists, and human beings behind the content cited within this article, I am grateful for you!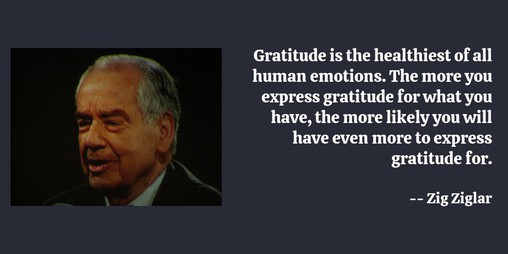 Struggling with debt? There ARE options. Request a free consultation today!